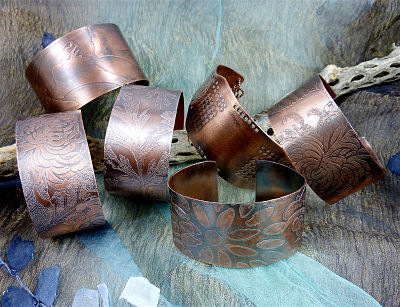 My Wild Wire Women retreat for August 23-27 is filling up quickly, and I'm really excited about the lineup of classes that have been chosen by the three participants who have signed up so far! There is still room for three more students to attend, so if you are interested be sure to email me right away.
For this retreat, we begin on Friday morning with a session on etching; the etched cuffs pictured above were made by my students during a recent retreat. We begin with design, sawing out a cuff or pendant shape, lots of filing and polishing, application of patterns to metal, and then the etching process itself.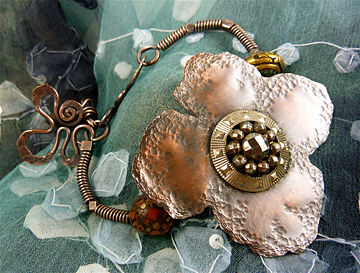 After lunch, we'll take on the Metallo del Fiore bangle bracelet, which gives students an opportunity to design a focal piece, saw it from metal, file and polish, texture with hammers and stamps, and attach it to a wire bangle with a handmade clasp.
I love this bracelet and wear it all the time; best of all, once you've made one in copper you can make many more using other metals (wouldn't it be gorgeous in sterling silver!). As part of the workshop fee, I provide all the copper wire and sheet metal needed to make every project, but students must bring their own beads, pearls, charms, buttons, etc. And if they wish to work in metals other than copper, they must bring their own. But most use copper and love it to make prototypes that they can later duplicate at home using different metals.
During the afternoon, I will also show students some wire basics such as how to ball up wire to make your own headpins, which saves money and is fun besides.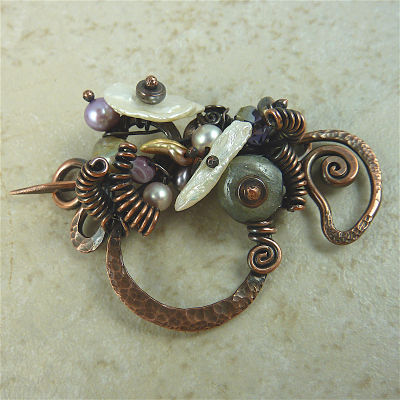 On Saturday morning, after a delicious breakfast we'll tackle the Embellished Pin (can also be made into a pendant instead). Students will learn how to make a curvy stick pin and embellish it with wire squiggles, beads, pearls, and charms.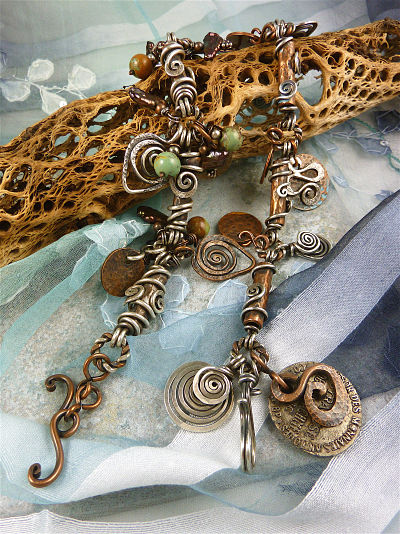 Using copper tubing from the hardware store is a fun option for metal artists, so I'll demonstrate this for my students and give them time to forge and texture their tubing beads to make a necklace or bracelet. We'll also make some wire charms and twisted-wire jump rings, as time allows...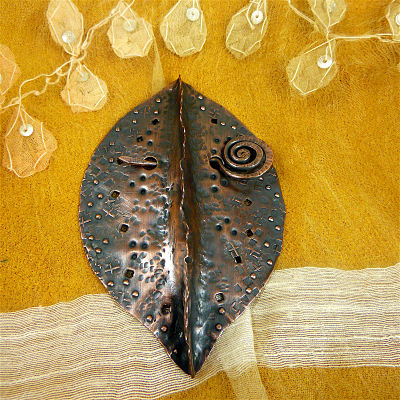 ...which may be difficult, because one student really wanted to see foldforming metal to make pins, pendants, earrings, cuffs, etc. and there isn't much time for that! But we'll at least have time for a demo on this fabulous, fun technique. I love wearing my foldformed pins and I always get lots of compliments on them, too.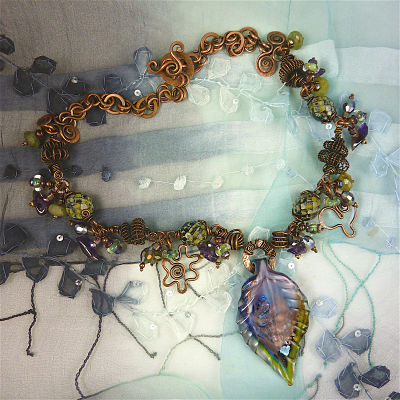 Sunday is going to be a very intensive day! After breakfast we'll jump right into the Fruit of the Vine necklace workshop, which includes various wire links and wire beads, a clasp, wire charms, and more. To finish this complex necklace in one day, plus use liver of sulfur to darken all of our jewelry, then polish everything and prepare it for an evening session of jewelry photography using the EZ Cube, well, it will be a challenge! But I think we're up for it.
People often ask what is included in the $825 retreat fee, so I'll repeat it here:
Dinner at Cafe Aroma on Thursday evening
Four simple breakfasts and three hearty, delicious lunches plus snacks and beverages (coffee, juice, tea, wine)
Four nights shared accommodation in my home
Three full, very intensive days of instruction (about 20 hours in total)
24-hour access to the workshop, and use of my high-quality studio tools
All the COPPER wire and sheet metal needed to make the jewelry projects
Miscellaneous materials such as etchant, enamels, gas, solder, etc.
What's not included: transportation to/from Idyllwild, dinners on Friday-Sunday night, beads, metals other than copper such as brass and silver
If this weekend's lineup of workshops is appealing to you, consider joining us on August 23-27 for a wonderful Wild Wire Women retreat in the mountains of Idyllwild, California. If that particular weekend is not going to work for you, I have several more retreats scheduled through the end of 2012.I hope to see you here soon!
Happy wrapping,
Sharilyn